Shop Design
Complete Project Management
Shelving
Stock rooms
Point of Sale Design
Client's Web Adress
www.dixonsretail.com
A FTSE company, DSG international is one of Europe's leading specialist electrical retailing groups operating over 1,400 stores in 14 countries. Here in the UK, their businesses include Currys, Currys Digital, PC World, and Dixons Group Business Services.
The organisation is a leader in its field, offering IT products and services to small businesses, charities, schools, SMEs, large corporations and public sector clients. DSGi Business also offers a range of eCommerce and eProcurement solutions across almost all sectors.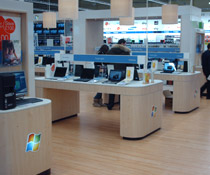 We contracted Wedderburn to work on our exciting new store designs including megastores and 2- in - 1 Currys & PC World Superstores. Their quick turnaround and attention to detail impressed us immensely.