Services Provided
Complete Project Management
Display Shelving
Site Surveying
Full Construction
Client's Web Adress
www.budgens.co.uk
Budgens stores are run and owned by people who care about the quality, provenance and value of their food, and their communities needs.
In 2002, Budgens became part of the Musgrave Group and today Budgens has over 180 stores, varying from petrol forecourts to neighbourhood supermarkets, which are now independently owned by Budgens retailers.
In the Retail Industry Awards 2010 Budgens were once again named fresh Produce Retailer of the year.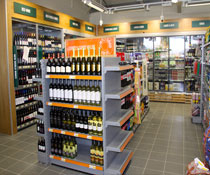 As a Budgens franchisee, Wedderburn have helped us grow our business by opening 5 stores in the last 2 years, one of which, was a large forecourt site in Bridgwater. We have been happily dealing with them for over 20 years.